3. Multiboxing¶
Using a multibox instead of increasing the size of the ZOV is a good choice to avoid some key issues you might experience.
Performance: having a larger ZOV means that there will be a bigger occlusion factor (parallax). Generating a larger file size since there is more information to capture. Depending on the specs of your VR machine this might cause performance issues.
Quality: if your ZOV is so big that it gets too close to an object you can lose resolution quality. With this in mind, it might be better to work around the object with a multibox set up. That way we can have a larger area to move around in and keep the quality we expect of a precomputed render.
For the multibox, additional ZOV's will have to be added. For this PresenZ needs three parameters to add more ZOV's, each of which must be individually rendered and combined into the player afterwards.
Warning
Each ZOV has to be the same resolution and size!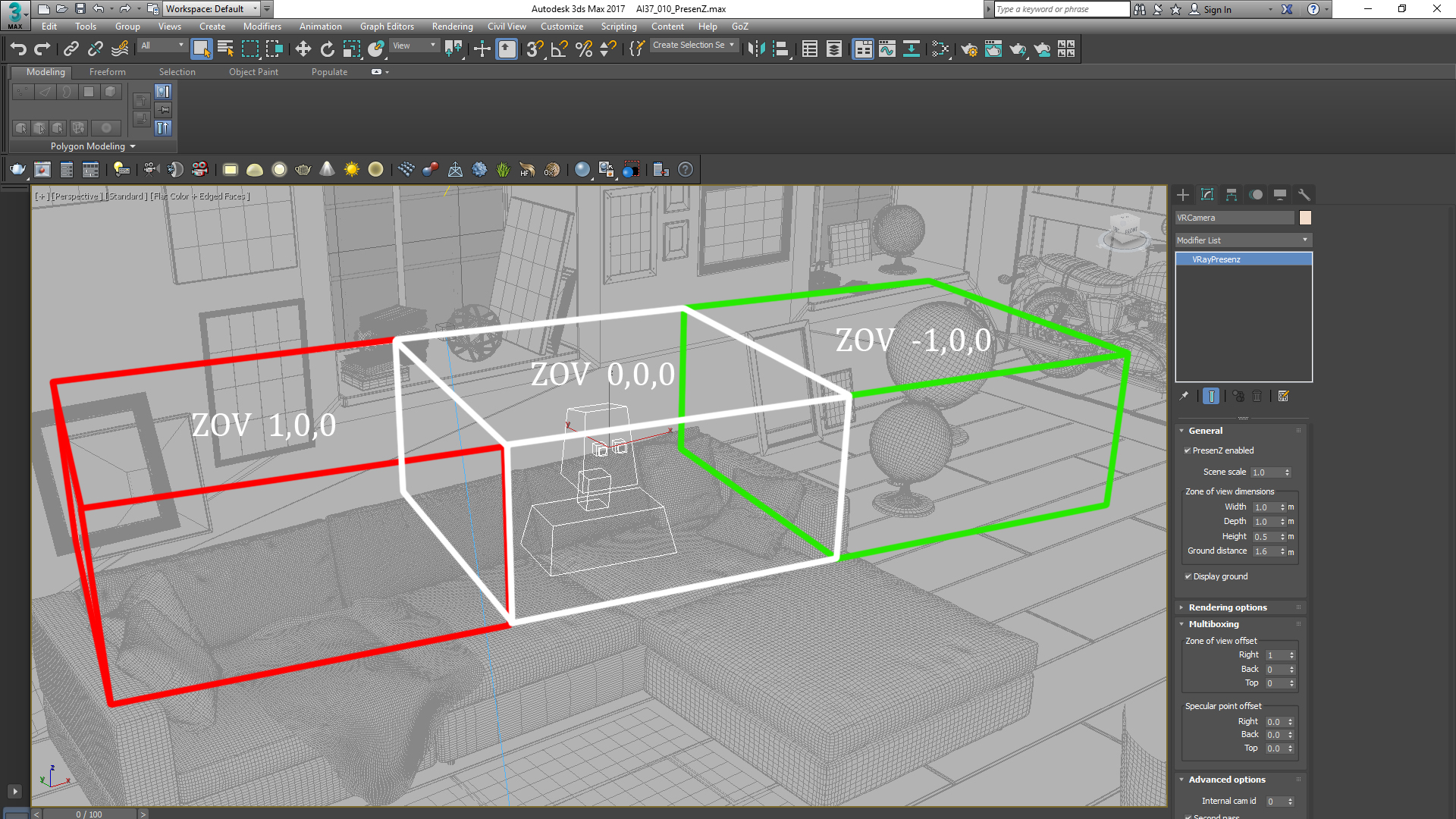 In the image above there are three different PresenZ settings, one for each zone of view. It's mandatory to render all the zones of view separately. After the rendering and the merge, you will have three prz files, one for each ZOV.
3.1. The multiboxing technique can be applied to render car interiors.¶
Car interiors for instance, can produce big PresenZ files which can cause the PresenZ Player to stutter. This is due to the size of the ZOV, which is by default too big for the interior. If we place the default sized ZOV at the position of the driver, the ZOV will be outside and inside at the same time, hereby producing to much data to handle. It's possible to render smaller ZOV's to reduce the amount of data, or use multiple boxes.
For example, an optimal setup. Instead of going for one large box I opted to go with 3 , 50cm x 50cm x 50cm boxes next to each other.
3.2. Merging your prz files into a multibox¶
The multibox grid will only be visible if you have a prz file selected where the zone of view is not in position x0,y0,z0. You can force the multibox grid to be active at all times in the edit>settings menu.
For this demonstration I will assume that you have went through the process off rendering out multiple zones of view, and now you wish to add them together for one scene.
In the image above you can see that I have selected 3 different prz files. Each of which have a different location inside the Multibox grid visualisation. You see that there are 2 boxes filled in the grid with 3 files selected. One of the files is ontop of the centre box, which is displayed by a layered effect to clarify that you are infact merging something.
After I am satisfied with my selection I will merge them together by going to Edit>Create multibox from selection (Ctrl + M).
Once the merge is done you will see only one prz file with an M icon for multibox, and also see all the zones of view in this file.
If you made a mistake, or wish to change something at a later date, you can simply drag and drop the desired zone of view back to the project.